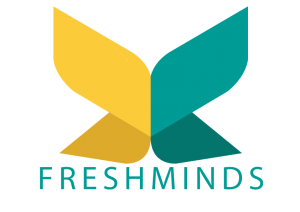 Freshminds Indonesia
Empowering Employees & Organizational Experience
Organization needs to be agile to stay relevant in the market. It requires passion and knowledge of the people.
As it has been said, "The only source of knowledge is experience", we continuously build experiences, not just knowledge or solutions, for you to grow and for us to serve our purpose.
Empowering Employees & Organizational Experience
We are here to collaborate with you to create new perspective and build resources for your organization. Which will lead to excellence performance.
How?
Through learning and talents development.
We all can agree that talents are one of the most influential resources which could make or break an organization. Even a small development can have a huge impact for your organization.
We believe by creating learning culture and constantly developing talents will give your organization competitive advantage to thrive.
How much time L&D spend on the following activities:
29% Building or sourcing learning programs and content
17% Building and delivering compliance training
16% Promoting learning programs to employees
15% Identifying skills gaps
15% Spending time with managers to identify learning needs
10% Championing learning programs to executives
L&D pros spend most of their time building and sourcing content
Some say that the way we spend our time defines who we are. The same is true for talent developers.
Based on survey results, they wear many hats with building and sourcing content being the biggest percentage of their time.
The rest of their activities are a mix of both strategic and tactical activities— from creating learning content to working with managers and executives.
By having large libraries of content to help quickly curate and personalize learning recommendations, we expect that the time spent building and sourcing content will go down over time.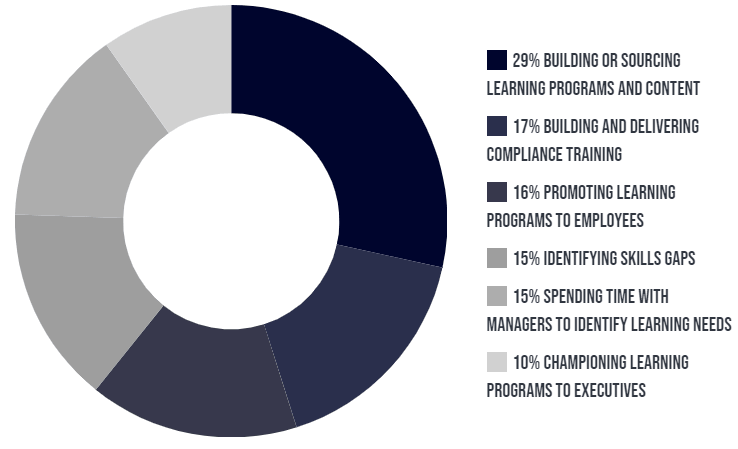 The myriad ways to measure the impact of learning
While the top strategic focus area for L&D this year is to measure the impact of learning, the survey data indicates that there isn't an industry standard.
Talent developers rely on both quantitative data from online learning solutions and qualitative feedback from learners to prove the value of learning.
Takeaway
When it comes to metrics, explore the possibilities Course completions are the most common way of measuring an engaged learner.
Explore a variety of ways to measure engagement, such as repeat visits, frequency of visits, or time spent learning.
Ways that L&D pros measure the impact of online learning
Qualitative feedback from employees
43%
Number of online courses completed
38%
Number of employees who consistently learn online
35%
Qualitative feedback about behavioral change
31%
Please inform to us if your organization need consultation!